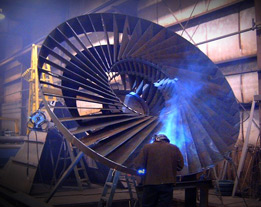 Coastal Metals Ltd. specializes in fabrication, welding and metal forming for duct work, panel work, structural steel and access steel along with a broad range of specialty fabrication projects. With a yearly output of up to 7000 tons, Coastal Metals Ltd. can provide fabricated steel for even the largest of projects.

We are a custom steel fabrication company offering a wide variety of products for local, domestic and international clients and are certified to CSA Standard W47.1, Div. 2 covering mild steel and stainless steel fabrication, and also certified to CSA Standard W47.2 for aluminum by the Canadian Welding Bureau (AWS-D1.1 and D1.2 compliant). To better serve our American clients, we are also AISC certified. Our primary field of operation is undertaking fabricated steel contracts for the power generation, mining, process and oil & gas industries offering complete packages from drafting and fabrication through to surface treatment and delivery.

Typical projects for us include: spray dryer absorbers, fabric filters, SCR's, hoppers, bins, chutes, silos, breechings, ductwork, bag houses, dust collectors and precipitators including ancillary fabrications.